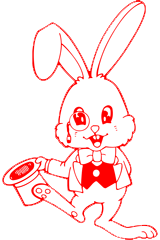 Professor Asobin (アソビン教授, Asobin Kyouju?) is a smartly dressed anthropomorphic rabbit who was the first unofficial mascot of Sega. Although he never starred in a game of his own, Asobin gained attention by appearing in nearly every game Japanese manual of early SG-1000 software since the SG-1000's retail launch on July 15 1983. He was replaced briefly by a very similar, but less leporine Dr. Games in 1984, but reappeared for the new range of MyCard software in 1985 and also appeared in a number of early Sega Mark III games as well. Often on the second or third last page, Asobin offered advice to players that was usually helpful and specifically tailored for each game.
Asobin's last appearance giving advice was in the manual for Makai Retsuden (Kung Fu Kid) released on 17th May 1987. He continued to appear in manuals on the page describing the correct care and maintenance of cartridges and cards during the rest of the Mark III releases, although no longer provided his customary gameplay advice.
Professor Asobin was succeeded by Doctor Games (aka Professor Playor), and then Opa-Opa from the Fantasy Zone series of games as the next iconic mascot of Sega.
List of Manual Appearances
SG-1000
Master System
Cameo appearances
References
Community content is available under
CC-BY-SA
unless otherwise noted.